Ernest is one of my favourite artists and I'm so happy he took time out of his busy Fall schedule to chat. His drawings/paintings always make me feel like I'm in the head of a little boy imagining war and anime, love and friendship – which is a good thing. That child-like quality plus the engrossing detail in his work creates a cinematic feeling. Each time I look at one of Ernest's pieces, I see something new and am engaged in a new epic adventure. Check out his show, or even better, drop by tomorrow at the opening and say hi.
Name: Ernest Concepcion
Occupation: Artist/Museum Educator
Borough/Neighborhood:  Home: Brooklyn/Kensington, Art Studio: Gowanus
Tell us a little about what you're up to, your current projects, the themes you're dealing with in your paintings, your collaborations: Well I'm currently working on my first solo show – ever. I have always been dealing with conflict-themed imagery but for this particular show I'm showing mostly new works based on a narrative I've been working on for quite some time. The show is also a tribute to my dad who passed away during the making of my new drawings. He's the original rockstar.
As for collaborations, it's been going strong. Paolo Javier and I are still in the process of making new text/image based projects and The Shining Mantis (as Mike Estabrook and myself) have been going around making murals all over the place. I'll keep you posted about our upcoming show at ISE gallery next year where we're having a friend of ours play heavy metal music while we draw.
We hear you have an upcoming show, please tell us more: Yep yep! Hope you don't mind if I plug this – but the show will be held at the Kentler International Drawing Space, at 353 Van Brunt Street, in Red Hook, Brooklyn. The opening reception will be on November 21, 6-9 pm and the show runs from that day till December 21, 2008. I will have an artist talk at the gallery on December 14, Sunday, at 4pm. That would be a good time to ask all questions about what's been going on in my brain lately. This show will feature mostly new large-scale drawings that I have been working on for awhile – tall, vertical drawings that specifically fits the gallery space.
This will also premiere my very own conflict ridden planet of Ona where I have been basing from, or possibly harnessing from as well, all my other drawings now. It will also show the 10 foot tall drawing of my new baby – the bad ass ancient deity of destruction and devourer of war and pestilence, Gerana. Clearly an exhibition not to be missed. For more details of the show, visit www.kentlergallery.org.
[Photo by Stella Dacuma]
And your headed to Miami for Art Basel? Tell us a little about that project and what we should look forward to:  It's actually the Pulse Art Fair, which I hear from everyone is the hipper version of Basel, haha. P.P.O.W Gallery is sponsoring me and fellow Mantis, Brother Mike Estabrook to fill up a 50-foot long wall in Miami with chalk drawing as part of the fair. We're going to use colored chalk for this one. The first time we started using colored chalk was for a mural we did in Montreal and it was just plain trippy. It does take longer to finish it (but then again, it never really gets finished anyway) but it was just soooo cool to be slowly surrounded by this psychedelic swirling battlefield of our own creation. We'll be in Miami from November 29 till December 7, 2008.

You are also a musician, any upcoming gigs we should know about? Not at this time though. My former band has disbanded but the trombone player (who is actually Mike Estabrook) and I formed a new one (coincidentally called The Shining Mantis), played one gig during the 4th of July '07 and then went back to our cave studios and started pursuing our art careers. We miss playing and I'm very sure we'll get back to that very soon. Hey, I have a drumset in my studio and its collecting dust! Besides, my studiomate Stanley Ruiz (who is an amazing designer) is also a musician and soon enough we'll be dabbling in music again. Will keep you posted.
What are you currently listening to? Good question! OMG, my studiomate Stanley is an old friend of mine from college and we pretty much grew up in the same scene in Manila. We just heavily started listening to all the kickass bands of the early 90's and to soundtrack albums whose movies where it was based from just totally sucked – like Singles and Judgment Night. Stanley whipped out his Helmet collection and geeeezus, it has been a ritual for me now to play "In The Meantime" as soon as I get in the studio, blaring through my tiny speakers. I reeeeaaaallly miss angst and I've totally forgotten how angst has been a crucial ingredient to my works. Stanley and I have decided to form a heavy metal band. And then if I feel like traveling to distant lands through space and time, I listen to Flying Saucer Attack. Sweet.
Favorite place to eat in the neighborhood: Oh my, during these hard times? Well in Gowanus, around my studio neighborhood, I still go to Abilene's (which is actually Carroll Gardens area) on Court Street and 3rd Pl. to have their burgers once in a while. The sandwiches sold at the deli under the Smith & 9th Street, F/G stop is topnotch and Ahmed who works there understands Tagalog because he lived in the Philippines for a while. Even claimed to have had a Filipina girlfriend. In Kensington, Church Avenue is littered with awesome tiny little eateries and awesome Indian restaurants are popping up around the Church/Macdonald Avenue corner.
Little known fact about your neighborhood: Kensington? Well we have the famous Kensington Stables!!! New York's friendliest, most accessible, and most affordable riding stable! Visit the stables then go home and watch the movie, Zoo. In Gowanus, we have the scenic Gowanus Canal. Kayak or canoe along the canal but remember not to touch the waaaaterrrr…..because it can eat your flesh.
Favorite watering hole: I would still go to Abilene's to drink and try to catch their happy hour from the studio. The people are cool and the chef's name is Oracle. Fucking Oracle! He's the one who makes them kickass burgers. But I'm starting to like this tiny little bar that just popped up from nowhere in Gowanus called The Bell House (7th Street & 2nd Avenue). Amazing interiors.
Best pizza in your hood: Oh man, there used to be a really good pizza place along Church Avenue near Macdonald and it just closed down. Now there's only their competitor left standing across from them – its Italian, handled by these cute Italian chicks, but not much pizza. Just Italian chicks.
If there was a movie of your life, what neighborhood would grace the opening scene? The opening scene would be an aerial shot 5 miles above of Quezon City, Philippines, like flying you could see the tiny little houses, the aluminum roofing of squatters, snakelike canals, fogged up jeepneys, the hustle and bustle of hardworking Filipinos moving around like ants, then the city implodes. Just implodes.
What is your all time favorite monster and/or horror movie? Oh man, that's hard. For horror, I would go for The Grudge, Japanese version (Ju-On). I saw that in a theatre in Manila and it freaked me out so deeply I hated climbing the stairs of our house for awhile. I brought a bootleg dvd of that to NY and showed it to my roommates and we always turn on the light by the stairs after that. For a monster flick – well its not a movie but I fell in love with this anime series called Claymore. Saw all episodes online and its just plain badass.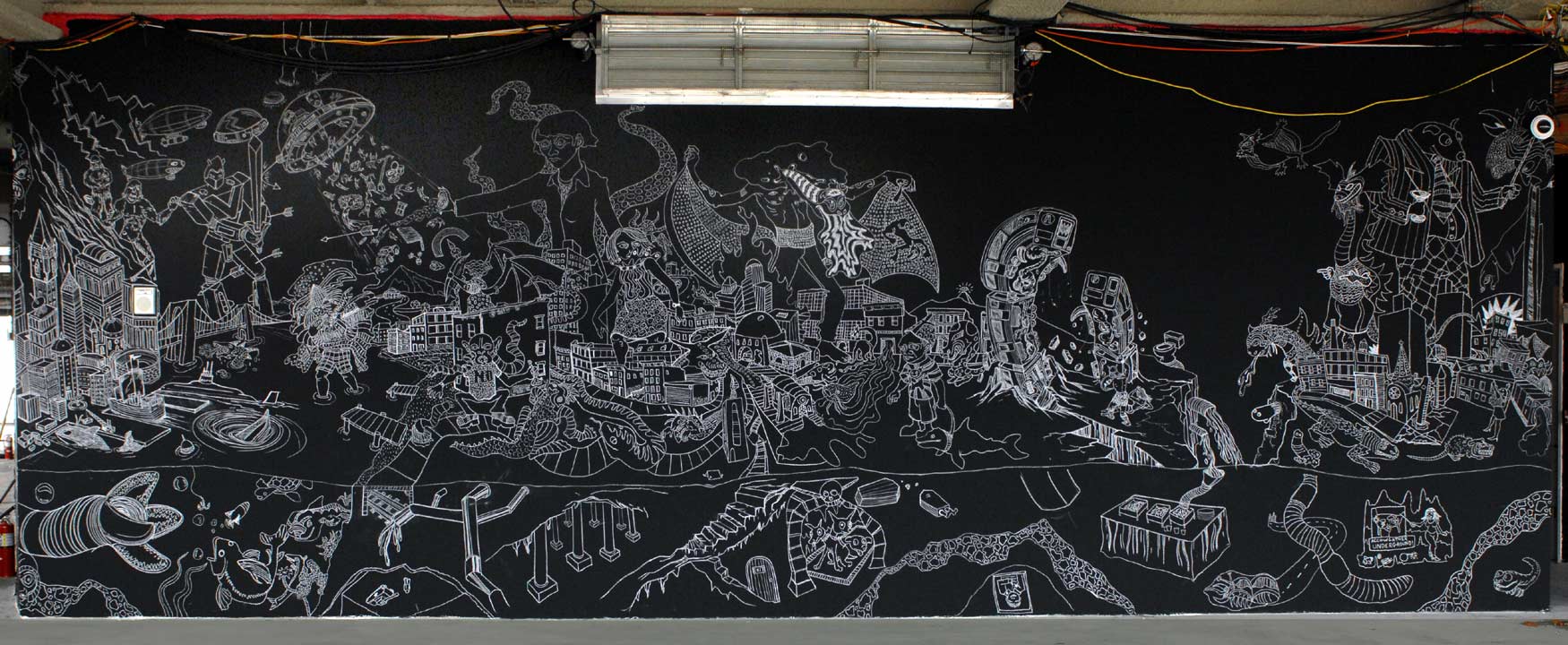 [Image from artcodex]
original post, 11/20/08 @ 09:00